Community Involvement
Solvay Bank is committed to the communities we serve. We actively participate in philanthropic activity and youth development programs, through donations and volunteering. Below are a few recent programs and events we took part in.
Local Outreach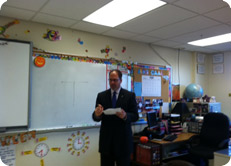 October 18, 2012
Solvay Bank Employees Support Get Smart about Credit Program
Solvay Bank took part in the national Get Smart about Credit Program, sponsored by the American Bankers Association Education Foundation. The goal of the Program is to raise awareness about the importance of using credit wisely.
Bank representatives spoke to 57 senior economics students at Solvay High School about the cost of credit. The program was so well received that the Bank has been invited back for additional lessons this fall and spring!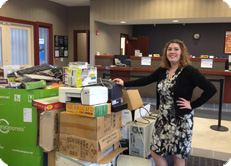 May 4, 2012
Solvay Bank Celebrates Community Banking Month with Recycling Events
April was National Community Banking Month and that was celebrated locally by Solvay Bank through a host of events that were open to the public. Throughout the entire month of April, the bank partnered with another local firm, CXTec, in an electronic recycling drive that was free and open to the public.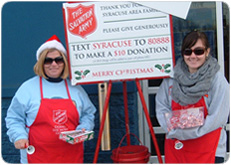 December 30, 2011
Solvay Bank Employees Support the Salvation Army's Red Kettle Campaign
Solvay Bank employees supported the Salvation Army's Red Kettle Campaign by ringing bells for red kettle donations at various locations in Central New York this holiday season. This is a cause Solvay Bank employees look forward to helping out with every year!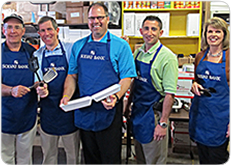 June 17, 2011
Solvay Bank Employees Raise Over $2,000 for the American Cancer Society
Employees at Solvay Bank collected over $2,000 for the American Cancer Society through a Pancake Breakfast Fundraiser and by their participation in the Society's Solvay-Geddes-Westvale Relay for Life event. Executive Officers at Solvay Bank cooked a pancake, sausage and fruit salad breakfast for staff in return for a donation made to the American Cancer Society. Additionally, luminaries were sold and walkers in the Relay event garnered sponsor pledges.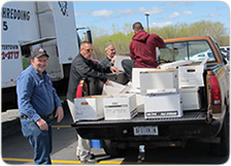 May 1st, 2011
Solvay Bank Puts on Shred Day Events for Community Bank Month
As a part of Community Bank Month, Solvay Bank put on 4 Shred Day events at their Main Office in Solvay, Fairmount, Liverpool, and Cicero locations. Attendees brought boxes of paper materials that they needed to dispose of and materials were shredded securely in an onsite truck. These events were open to the public and shredding services were provided by Feher Rubbish.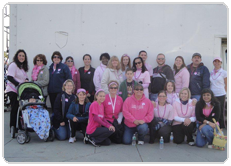 October 3, 2010
Making Strides Against Breast Cancer Walk
On Sunday October 3, 2010 Solvay Bank participated in the annual Making Strides Against Breast Cancer walk. We had a team of 25 including family members and friends. The team raised a total of $865.
It was a beautiful morning in Downtown Syracuse creating the perfect setting for such an wonderful event, which included not only the walk but a great band and some inspirational stories of strength, survival and hope.
Way to go Team Solvay Bank for the helping Making Strides toward a world with more birthdays!!!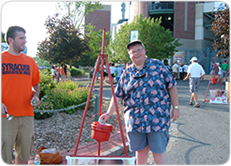 July 15, 2010
Solvay Bank Rings Bells for Salvation Army
Solvay Bank employees came out and rang bells for the Salvation Army before the Syracuse Chiefs baseball game in support of the Salvation Army's Christmas in July initiative. Employees had a great time participating in a event that will further help our community. Every dollar that went into the red kettles, the Salvation Army turns it into $4.00 that will go to help people right here in CNY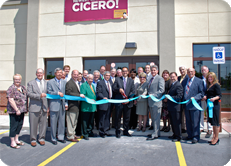 May 21, 2010
Solvay Bank Celebrates the Opening of the Cicero Smart*Branch
Solvay Bank officially opened its eighth location in a ribbon cutting ceremony held at the new Cicero location at 7895 Brewerton Road in Cicero. Paul P. Mello, President and CEO of Solvay Bank, had the honor of cutting the ribbon in a ceremony that was attended by the Solvay Bank Corp. Board of Directors as well as Cicero Town Supervisor Judy Boyke, New York State Assemblyman Al Stirpe, and Onondaga County Legislators Casey Jordan and Lynn Jennings. The innovative Cicero Smart*Branch is the first of its kind in Central New York and is a new concept for Solvay Bank.
The Smart*Branch's Grand Opening Celebration featured Syracuse University Men's Basketball Coach Jim Boeheim and former player Gerry McNamara along with food, fun and prizes.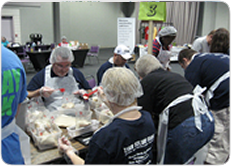 May 1, 2010
Solvay Bank Volunteer for Haiti Relief Program
Solvay Bank employees volunteered back during a May event to package food for the Haiti Relief Program at the Civic Center in Downtown Syracuse. Over 10% of Solvay Bank's employees gave up a Saturday morning to help those in need after the Haiti earthquake.. It was quite an event, over 2,600 volunteers packaged over 867,585 meals for the relief effort.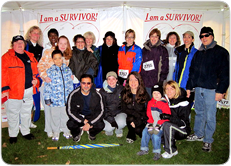 April 17, 2010
Solvay Bank Employees Take Part in the Syracuse Heart Walk
Solvay Bank employees braved the rainy weather to participate in Syracuse's Heart Walk for the American Heart Association. There was a solid group of employees that took part in this great event and the SB team donated $1,793.25 to the cause through employee contributions and the sale of red hearts in the Bank's seven branches.
Community Links
The Camillus area has much of interest both from a historical and a recreational point of view. Please use the links at the left to access information about the history of the town & government, as well as the many local attractions, recreation and entertainment options that are available to residents and visitors alike.
Geddes is a town in Onondaga County, in the Syracuse metro area. The community was named for James Geddes, engineer of state canals. The latitude of Geddes is 43.078N. The longitude is -76.226W. It is in the Eastern Standard time zone. Elevation is 371 feet. The population, at the time of the 2000 census, was 17,740.
The Village of Liverpool, is a delightful community on the north shore of Onondaga Lake with unique shops, spectacular restaurants, lovely lakeshore trails, and warm village folk. The Village of Liverpool is approximately 1 square mile and is home to 2,600 residents. Over 35, 000 people travel through the Village of Liverpool daily.
The Village of North Syracuse proudly keeps the heritage alive that began so many years ago. We have greatly advanced over the years, and have all of the modern conveniences, facilities and services that our citizens require. Learning more about the Village of North Syracuse couldn't be any more convenient. Essential resources and information all online, in an easy to navigate format.
Solvay is a village in Onondaga County, in the Syracuse metro area. The community was named after local factory using the Solvay Process of making soda. The latitude of Solvay is 43.058N. The longitude is -76.207W. It is in the Eastern Standard time zone. Elevation is 499 feet. The estimated population, in 2003, was 6,734.