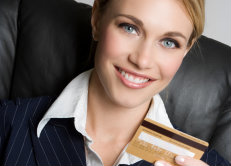 Business Credit Cards
Make life easier for you, your employees, and your accounting department with a business credit card from Solvay Bank. Unique card numbers are given for each employee issued a card. This simplifies expense tracking, saving valuable employee time in accounting.
Our Visa® card is accepted worldwide, making travel easy for employees. For added value, your account earns ScoreCard® Rewards with every purchase.
Summary

Low annual fee per card

Unique card numbers for each employee

Establish limits on card-by-card basis

Detailed reports for easier expense tracking

Earn 1 ScoreCard point for every $1 in purchases

Redeem points for merchandise, travel, and unique experiences

Corporate liability waiver

Emergency card replacement

Emergency cash disbursement

Purchase Security

Extended warranties

Auto rental insurance

$150,000 travel assistance insurance regardless of credit line