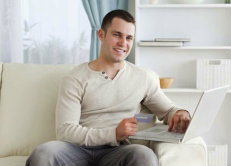 Online Banking
With our free online banking you'll have direct access to all your accounts, 24 hours a day. You can even pay bills to any merchant in the country.
Even though our friendly tellers get to know our customers by name, we recognize you can't always squeeze trips to the bank into your schedule. So go ahead, do your banking from home.
Summary

Free with all Solvay Bank accounts

Available 24/7 from any computer*

Safe and secure

Very easy to use

View balances and account histories

Transfer funds, make loan payments

Enhanced Security adds an additional layer of security to Online Banking.

Bill Pay

Online banking includes a bill payment feature that allows you to pay all your bills through one easy, secure screen.

Save postage fees
Reduce paper waste
Manage bills more easily
Set up as many bills to pay as you need
Can schedule recurring payments
Can set up due date reminders
Available 24/7 from any computer*
Safe and secure
Very easy to use

*Must have internet access.