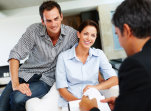 Investment Services
Experience and trust are imperative when selecting a financial partner — especially when it comes to investing your hard-earned money. We have the expertise to manage your portfolio and the personal touch to administer your estate. Schedule a consultation with one of our friendly experts today.
Our Investment Services include:
Investment management services

Retirement planning services

Personal trust and estate planning

Life & long term care insurance

Employee benefit services

Brokerage services*
For more information about our investment services or to schedule a personal consultation, contact:
Kevin Sullivan, Vice President
Department Manager
Senior Investment & Trust Officer
Phone: (315) 484-2262
Fax: (315) 488-9175
Jeffrey Culver, Assistant Vice President
Trust and Investment Officer
Phone: (315) 484-2259
Fax: (315) 488-9175
David Stanton
Trust and Estate Administration
Phone: (315) 468-1661 x3215
Fax: (315) 488-9175
Bridget Swanka
Client Services
Phone: (315) 484-2237
Fax: (315) 488-9175
Investment and insurance products ● are not deposits ● are not FDIC-insured ● are not insured by any government agency ● have no bank guarantee ● may go down in value.