Keep an eye on your accounts — when you're not even looking — with free alerts from Solvay Bank.
Details
Alerts may help you prevent late and overdraft fees by letting you know when your checking account balance drops below a level you set
Receive alerts by email, mobile text, or within online banking
Set up alerts for any Checking, Savings, or Loan Accounts that you have with Solvay Bank
Account alerts are free — however, if you choose to receive alerts on your mobile phone, message and data rates from your mobile provider may still apply
There is no limit to the number of alerts you can create
You choose the alerts to receive and where to receive them
Only email addresses or mobile devices that you authorize through our secure Online Banking site will receive alerts
Account numbers are masked in alerts to protect your information
No detailed personal data is sent via text message or email
You can start and stop receiving alerts anytime you wish
Learn More
Visit our FAQ page for answers to common questions.
Important Information
Alerts do not prevent account events from occurring; they just alert you of their presence.
Certain alerts are issued only once per account event you select, and some alerts are recurring. Please see our FAQs on Account Alerts for more detailed template information.
Alerts cannot be guaranteed to be issued or arrive within a certain time period of any account event. We do our best to provide alerts in a timely manner with accurate information. However, alerts may be delayed or prevented by a variety of factors beyond our control such as system failures with internet or cellular providers.
To stop receiving an alert, open the Alerts menu and click "Delete" next to the alert you wish to stop.
If you choose to have alerts sent as texts to your mobile phone, message and data rates from your cell phone or internet provider may apply.
Get Started
Enable Alerts
Log into Online Banking. From here, you can choose to enroll in Mobile Banking. We highly recommend that you enroll if you wish to receive alerts on your mobile phone
If you are enrolled in Mobile Banking or wish to be enrolled, then follow the steps (1-5) below to enable your phone for alerts.
If you are not, but would still like to set up alerts, please skip to step 3 below.
Click on "User Options" from the menu.

Scroll down to "Mobile Banking Profile" and click "Manage Devices" to open the Mobile Banking Services Menu. If you are not enrolled it will say "Enroll Now" and will prompt you through the setup, including Alerts.

From the "My Devices" tab, click the drop down and choose "Change my Mobile Banking services," then click "Go."

Check the box for alerts, then click "Continue" to return to the Mobile Banking Services Menu. It is not necessary to make other changes to your service choices at this time.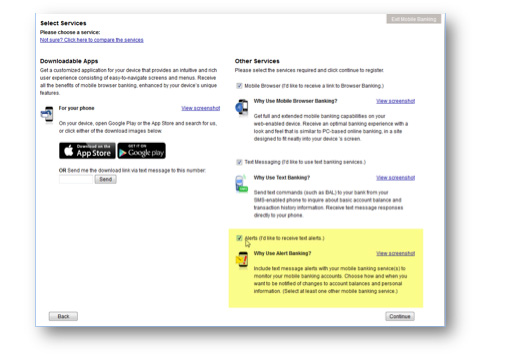 Alerts are now enabled for your phone. To return to online banking, click the exit button in the upper right-hand corner of the screen.
Set Up an Alert
From the overview page, click above your List of Accounts for the Alerts Menu.

Choose the type of alert you would like to set up. (Checking, Savings, etc.)
Click "Setup New Alert."

Select an alert from the available templates.
Complete the alert template. The system will give you choices in the alert setup based on the alert that you choose. If there is a choice for you to make, a drop-down arrow will appear to the right of the field. Click "Finish."

You're done. Now each time this event takes place you will receive an alert in the method you've chosen (by email, mobile text, or inside your online banking).
To close the Alerts menu, simply click on the X in the upper right corner.